Overview
In Content slider you can simply drag and drop widgets with the flexibility to make the slides the way you want.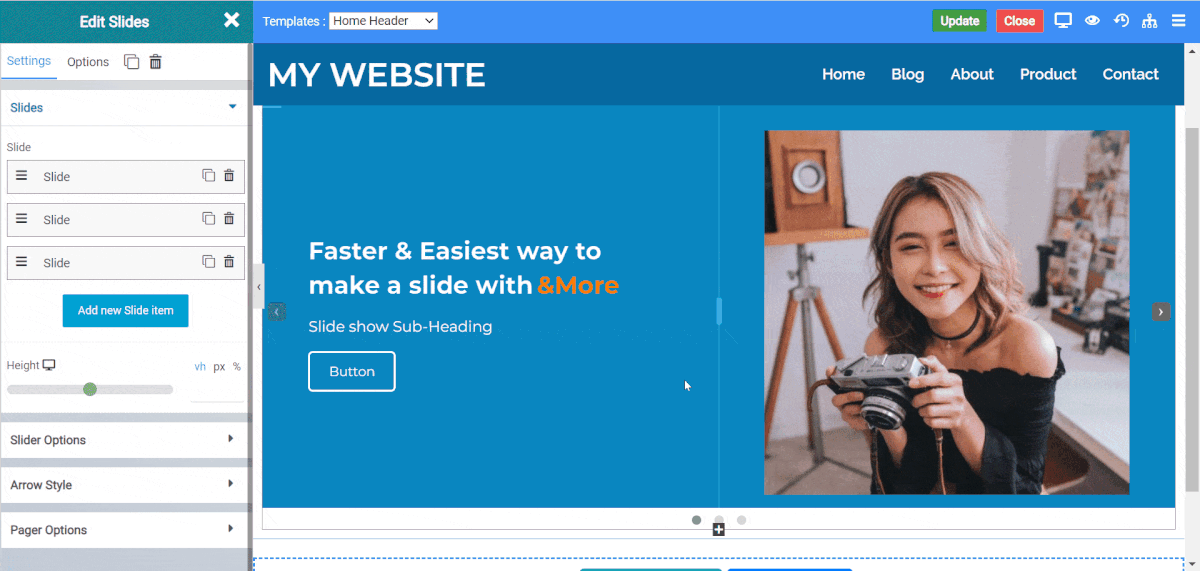 Steps to use Content Slider
Search for Slides Widget and then drag and drop it in the editor.
You will get a basic template of 2 slides, you can drag and drop other widgets in the slides or edit the already placed template.
The default height of the slides is 80vh you can change that with the height option.
Content Slide options
Background Type : Its of 3 types Color, Image, Gradient.
Ken Burn Effect : Ken burn is a background image effect in which the image grows in scale in a defined speed.
Background overlay : It is used to add a layer of color over the background.
Blend Mode : Blend mode is used in combination with background overlay so create effects of blending of color with the background.
Arrow Styles
Background Type : This option sets the background of the arrow navigation.
Color : This option sets the color of the arrow.
Arrow Size : It sets the size of the arrow.
Background Size : It sets the size of the background shape of the arrow.
Position : The arrow navigation can have 4 kind of position Default, Custom, Top and Bottom.
Icon Type : It lets you set the icon type which is of 2 type Default and Custom, Custom lets you set icon from a list of icons
Pager Options
Dot Radius : Sets the radius of the dot in the pager.
Position : Sets the position of pager, Bottom Position is the default.
Dot Height : Sets the height of dot.
Dot Width : Sets the width of dot.
Dot Size : Sets the height and width equally of the dot.